Aqua-Médic
copy of AQUA MEDIC - Cool control - Digital measurement and adjustment device for controlling ventilators
The cool control from Aqua Medic is a digital measuring and adjustment device for controlling ventilators. The "cool control" temperature controller with touch screen allows the control of 12 or 24 volt fans equipped with a hollow plug (5.5 mm x 2.1 mm). The switching accuracy is 0.5°C.
Order it before 15:00 tomorrow and receive it on Thursday, December 7, 2023 with Chronopost - Livraison express à domicile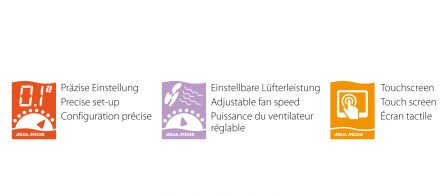 The reference value can be set in steps of 0.1°C in the control range of 0 to 36°C. The "cool control" sensor is firmly connected to the device and is resistant to sea water. The LCD display shows the current temperature, the reference value as well as the fan power (10 - 99%). All these parameters are easily adjustable.



Maximum switching capacity: 65 W
Dimensions: L x W x H approx. 120 x 62 x 28mm
Fan power cable length: 150 cm
Probe cable length: 100 cm