Are you looking for a reliable solution to maintain a constant water level in your aquarium? Do not search anymore! The Osmolator 3 from TUNZE is the answer to your expectations. Designed for freshwater and saltwater aquariums, this revolutionary osmolator combines an optical regulation sensor and an independent thermal safety sensor for unrivaled precision. This all-in-one system includes a quiet and efficient Turbelle® High Jet 5030 pump, magnetic mount, power supply, quality hose, and more. Its compact design and ease of installation make it the perfect choice. 5-year guarantee by Tunze .
Ultra-precise water level regulation
100% overflow protection
Easy Plug & Play installation
Extreme Precision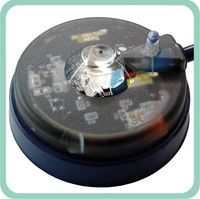 The Osmolator 3's advanced optical sensor detects water level variations with an accuracy of 0.5 mm . Robust, it resists air bubbles, deposits and scratches, guaranteeing flawless reliability. In the event of an overflow, the independent thermal safety sensor immediately stops the pump, giving you peace of mind with 100% overflow protection.
Plug & Play installation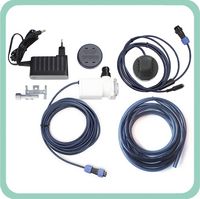 The Osmolator 3 is a dream for any aquarist thanks to its Plug & Play system . All necessary components are ready to use right out of the box. No tedious software setup , just a quick and easy installation based on years of experience.
High Technology Dosing Pump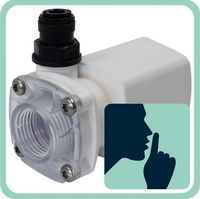 The included Turbelle® High Jet 5030 pump delivers exceptional performance with quiet operation and a maximum discharge head of 6.2 m. Its high-tech design ensures extended life and easy maintenance.
Compact and Robust Design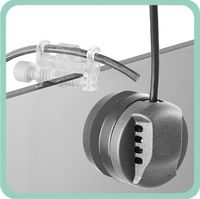 Its compact all-in-one construction with magnetic mounts and hose holder allows easy attachment to any aquarium edge or in the filter, fitting glass up to 15mm thick. The quality materials used guarantee resistance to seawater and increased durability.
The important points of the Osmolator 3 in Brief:
Extreme Precision: Advanced optical sensor detects water level variations with an accuracy of 0.5 mm. Resistant to air bubbles, deposits and scratches.
100% overflow protection: Independent thermal safety sensor immediately stops the pump in the event of an overflow.
Plug & Play Installation: Plug-and -play components for quick, worry-free installation. No software configuration required.
Turbelle® High Jet 5030 Dosing Pump: High performance, quiet operation and delivery head of 6.2 m. Long lifespan and easy maintenance.
All-in-One Compact Design: Easy to install with magnetic brackets and hose holder, adaptable to glass up to 15mm thick.
High Quality Materials: Seawater resistance and increased durability with cables and hoses specially designed for demanding aquarists.
5 year warranty by Tunze