The new Dosing Pump Pro X4 series is an innovative and highly precise 4-channel dosing pump for marine aquariums. It allows a dosage of minerals, trace elements and other supplements in the aquarium. The quiet, bidirectional stepper motor offers a range of entirely new possibilities. Exclusive, ultra-precise Reef Factory pumps are a great way to take dosing in a marine aquarium to the next level.

The Dosing Pump Pro Series represents the latest in marine aquarium dosing pumps, offering cutting-edge technology for unrivaled precision in the delivery of minerals, trace elements and nutrients. With its discreet and reversible stepper motor, it opens the way to innovative functionalities.

Reef Factory pumps, both exclusive and extremely precise, constitute an advanced solution for improving dosing in marine aquariums.

This new Pro dosing pump combines technical excellence with Reef Factory 's signature software quality: a transparent and remarkably easy-to-use user interface, and seamless WiFi communication, ensuring an optimal user experience. The Smart Reef application, accessible anywhere in the world, facilitates supplementation and real-time monitoring remotely.

The Dosing Pump Pro is Reef Factory 's answer to the need for uncompromising liquid dosing in marine aquariums.
Main characteristics :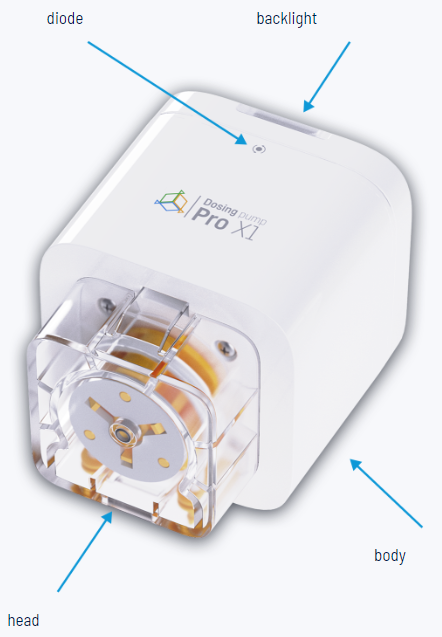 Exceptional precision - dosing from 0.01 ml
Pump efficiency up to 9 ml of liquid per minute
Quiet operation of proprietary dosing pumps
High precision stepper motor
Bidirectional operation with possibility of reversing the flow of liquid (allowing the dosage of phytoplankton and food)
High chemical resistance BPT material used for tube
Compact size and modern design
Easy installation in the sump using a DIN rail
All you need to control the smart device is the free Smart Reef app. You can install it on your mobile device (Android, iOS) or use it from a browser. Simply pair the device with your Smart Reef account to enjoy a wide range of smart features.
Smart features: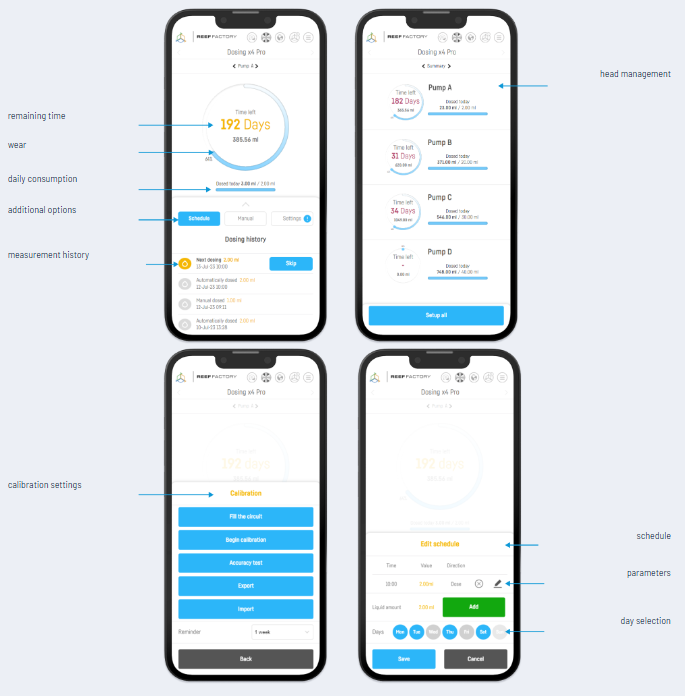 Free, easy-to-use Smart Reef app for Android, iOS, or computer (browser-based support)
Creating and editing flexible dosing schedules
Automation of the dosing process based on real-time parameter levels
Possibility of specifying the direction of rotation of the pump
Quick change of dosage settings and ability to add additional doses outside of schedule
Dosage in ml or percentage (%)
Clear history of dosing activities
Remote aquarium management from anywhere in the world, 24/7.
Pump grouping for easy management of simultaneous dosing of several components (e.g. Balling method)
Information on the remaining amount of liquid in the container for dosing
Intuitive and fast calibration process guarantees high dosing accuracy, with push notifications reminding you of the need for recalibration
Importing and exporting dosing programs
Technical parameters:
Dosing accuracy: +/- 0.01 ml
Wi-Fi communication: 2.4 GHz bgn
Bluetooth communication: BLE 5.0
Max. length of water pipe: 2 m
Operating temperature: 20-30°C
Ambient humidity: 0 to 95% RH
Operating noise: 40 dB
Power supply specification
Input Voltage: 12V 1A - AC 110-230V 50-60Hz.
Power consumption: 0.5-5W
The devices are CE certified.